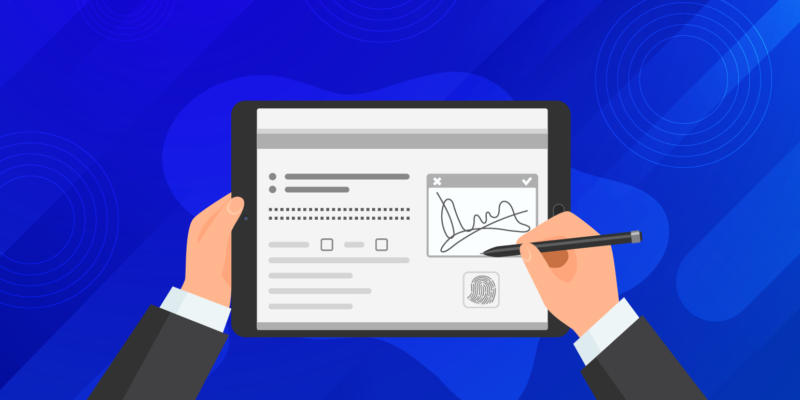 Introduction
Tech companies operate in an extensively digital world. All of the work occurs on computers and cloud-based systems, and most communication, including meeting, occur on digital platforms and applications. Paperwork which has been the foundation of operation in all businesses has also moved to the digital space to speed things up, secure sensitive information and save mountains of office space.
Any tech company goes through hundreds of documents daily that require the signatures of various individuals. HR often has a long trail of paperwork spanning weeks to onboard new employees. Legal often have records and affidavits that are copied multiple times for relevant parties. Finance would have contracts and agreements with multiple stakeholders, and so on.
eSignature workflows align with other technological advancements that allow companies to automate departmental processes. A modern eSignature solution enables you to create workflows for a number of repeating business functions, such as onboarding new hires and clients, creating and distributing internal documents, contract renewals, and more. These workflows can also be customized for ownership, security, discretization, and routing.
eSignature workflows in tech companies
Digitization and automating paperwork with a solution such as Signeasy can significantly benefit organizations of all sizes. Here's how:
Keeping up with the modern trends
While paperwork is inevitable, it's only in recent times that businesses have been able to break free of actual paper. Digital documents offer far more flexibility and safety to sensitive information and contracts. Imagine receiving an email with a document to be signed, and you realize it has to be printed, signed, scanned again, and uploaded. What a waste of time, effort, and resources!
Some of you might put up with the task because it was always the norm. However, it could be a deal breaker for your client. With digital documents and eSign solutions, you can make the paperwork smooth to keep up with the pace of today's businesses. Greater client experience is the way to happy clients.
Simplify departmental chores
A significant amount of work for departmental admins involves creating documents for signatures and approvals. Sending manual documents for reminders, memos, and other internal documents is another chore that can take up copious amounts of time. Often understaffed startups and small businesses can save time on unproductive admin chores.
With Signeasy, admins can instantly create standardized internal documents using reusable templates that can be customized for signatures from specific individuals. It can also automate memos and reminders to save time and effort so the staff can focus on higher-value tasks.
A necessary tool in your tech stack
Companies often have different softwares in their tech stack, which contributes to their complex workflows. With the involvement of multiple stakeholders and departments in major tasks, an outdated paperwork process can only act as a hindrance to the flow.
With Signeasy, you can collaborate seamlessly across departments and simplify the workflow while keeping up with the rest of the processes. The tool's versatility allows the collaboration of more than 20 stakeholders on the same document from any device and any location.
Simplify paperwork and build trust
Your customers expect a convenient and secure way to carry out business documentation and processing. With Signeasy, you can bring reliability and security to paperwork so your customers can be at ease.
The seamless signing and authorization of paperwork speed up internal processes such as onboarding new hires and shortening sales cycles. You can also add your personal branding to create a digital paper trail that is comprehensive and transparent.
Reduce waste
You can save a significant amount that goes into manual paperwork by eliminating paper, ink, and the power consumption of running printing and copying machines. The broader benefit to the environment comes from zero paper use and a smaller carbon footprint. As a bonus, your environmentally-friendly approach is sure to leave a positive impact on your customers and peers.
How Signeasy can become your reliable partner in the signing process
It is simple: Signeasy is intuitive and easy to use. Even beginners can figure out the tool instantly and have the documents signed in no time.
Legally compliant: Your eSignatures comply with eIDAS and ESIGN Act regulations. Therefore it is as valid as a handmade signature.
Robust tracking: Never miss a document or step again. All your signature trails have a legally-compliant audit log.
Affordable pricing: You can choose pricing based on your requirements. You can sign unlimited documents with our business plan.
Simplify using templates: You can have all your frequently used documents templatized and save time. Use the envelope feature to group all your customized documents and sign them together.
Seamless integrations: Signeasy integrates with popular apps and ecosystems such as MS teams, Google Workspace, Slack, and others.
Mobile friendly: Signeasy is on all devices! Whether you're using Android, iPhone, or iPad, you can sign in from anywhere and anytime.
Conclusion
With Signeasy, you can save time, effort, and resources that go into manual paperwork. You also get added benefits in the form of security features and immediate paperwork processing. To learn how it can benefit your business, request a demo with Signeasy today!